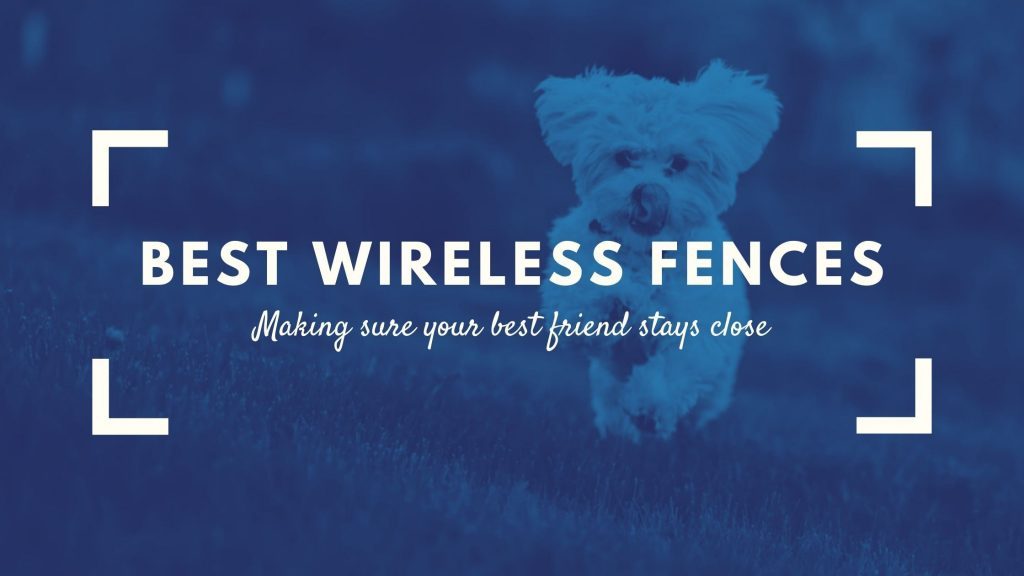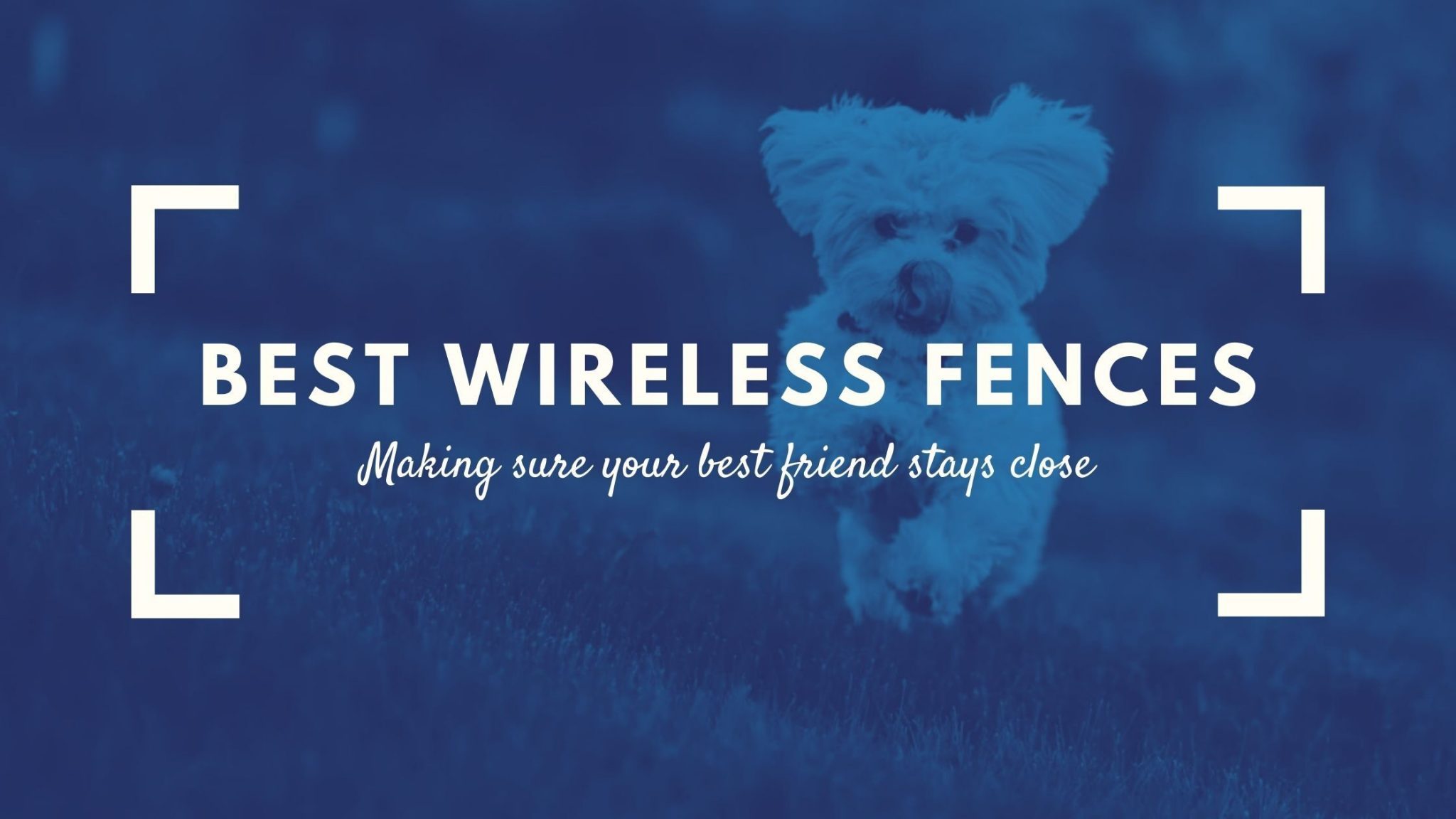 Wireless dog fences are an ideal way to keep your dogs within safe boundaries while also giving them the freedom to run around and play to their hearts content. However, the process of finding the right invisible dog fence just right for your needs and the safety of your specific dog can be a bit overwhelming.
At The PetsMaster, we've taken the time to research and review over 40 wireless and underground dog fences and found the best ten to take out any guesswork for you.
How we picked the best ones
Our review process is exhaustive and has multiple steps. In researching the best invisible fences out there, here's what we do:
Dig through reviews and crowd-sourced ratings on multiple sites
Review the safety history of the companies creating the fences themselves
Examine how large an area each fence can protect
Research the quality of the coverage range, to make sure the transmitter strength matched the listed coverage size
Read more about our review methodology and process
Are invisible pet fences safe?
The short answer is yes, invisible fences are safe to use for most healthy pets. The shock emitted by wireless fence collars aren't painful and are designed to startle, not hurt. You can also set the collar to play a tone rather than create that "shock" or buzz. Read more about safety precautions you can take.
The two types of invisible fences (and which you should get)
There are two types of fences you'll need to pick between when choosing:
Wireless (with base station)
The protected area is a circle around the base station, which uses a radio transmitter to keep track of the dog (or, more accurately, collar). It's easy to set up with no wires to bury or mark. The boundary line is fuzzier / non-specific beyond a simple circle.
Underground wire fence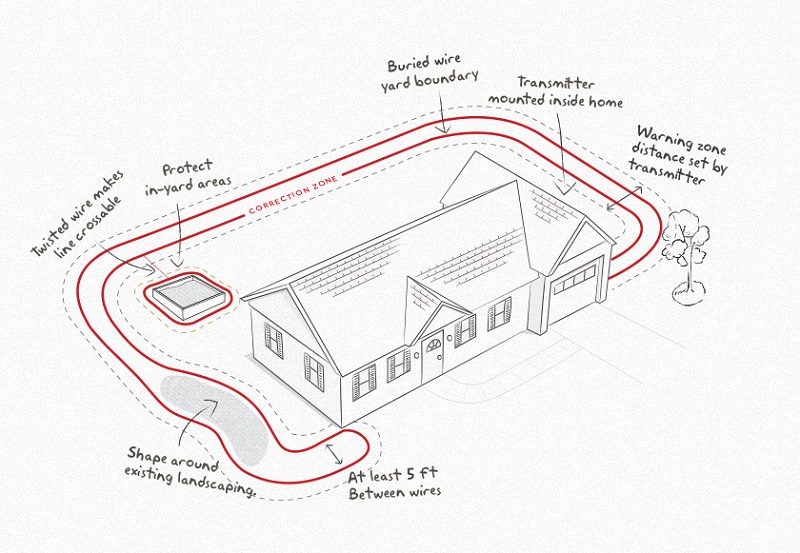 Walk your property line or safe area and place a wire under the ground along that line. You can create a fence in any shape or size as long as you have enough wire: the dog will be safe inside that area and warned/shocked outside of that area.
Learn more about the difference between these two options and choose which one is right for you!
Jump to section
The Best Wireless Fences
The Best Underground Fences
Will a wireless fence hurt my dog? (Short answer, no)
What to avoid — fences we *don't* recommend
Our complete review methodology

---
The Top 5 Wireless Fences
We researched over 40 products, and these are the best five invisible wireless dog fences on the market.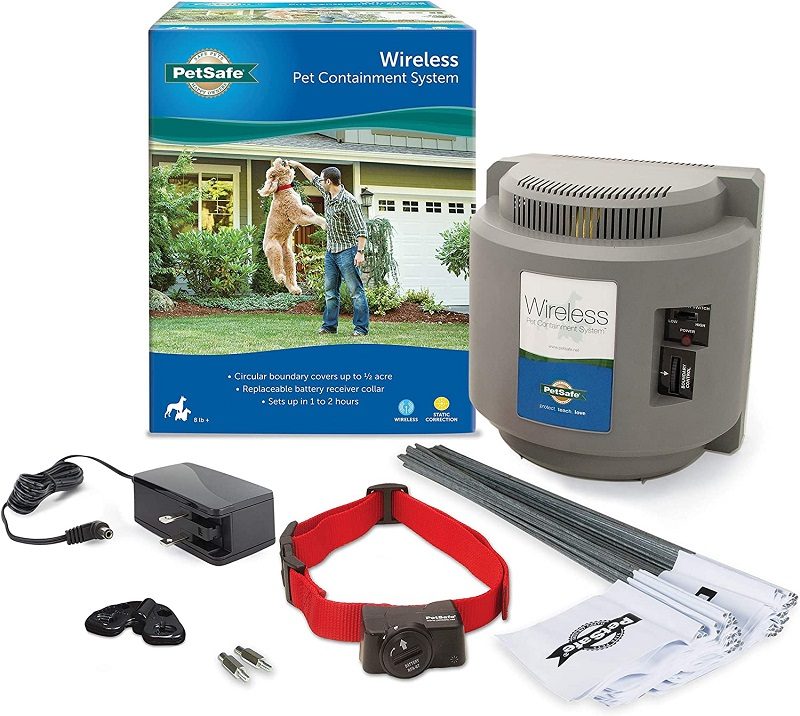 Our Top Wireless Pick
It boasts great coverage area, relatively easy set up, a long battery life, and a portable system that pet parents loved.
Without question, PetSafe and its parent company, Invisible Fence, have become leaders in the pet containment world. They have perfected safe, simple ways to keep your dog safe. And nowhere is that clearer than with the PetSafe Wireless Containment System. This effective wireless fence system covers a lot of ground so your pet has plenty of space to play. Reviewers love the portable transmitter, steady signal, and comfortable, waterproof collar. Plus, the battery life is great on this wireless fence.
The set up is quite easy, just assemble and turn on the transmitter. This is one of the top benefits of a wireless system that's not underground: set up will usually take an hour or so, rather than a few days.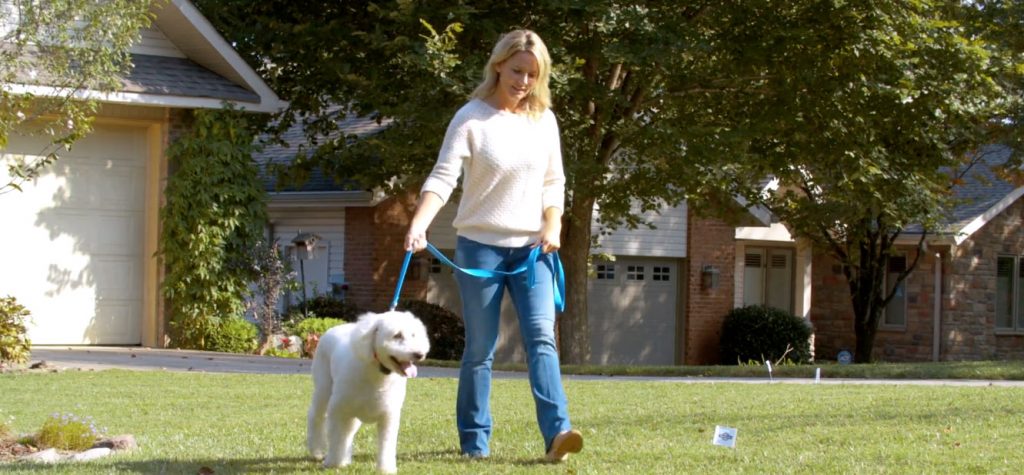 You can of course set flags at the limit of the range as a visual cue for your pet, but the collar also makes warning "beeps" that let your pup know they're about to reach the limit, well before any shock happens. On the transmitter module you can set the the power of the shock and the distance. Just be sure to very carefully follow the training protocol laid out in the instructions for best results.
Pros
Great Coverage Area
Easy Set Up
Portable System
Compatible with Additional Base Units
Comfortable, Adjustable Collar
Long Battery Life
Cons
Signal Quality Decreases in Hilly Areas
Battery Charge Decreases with Recharges
---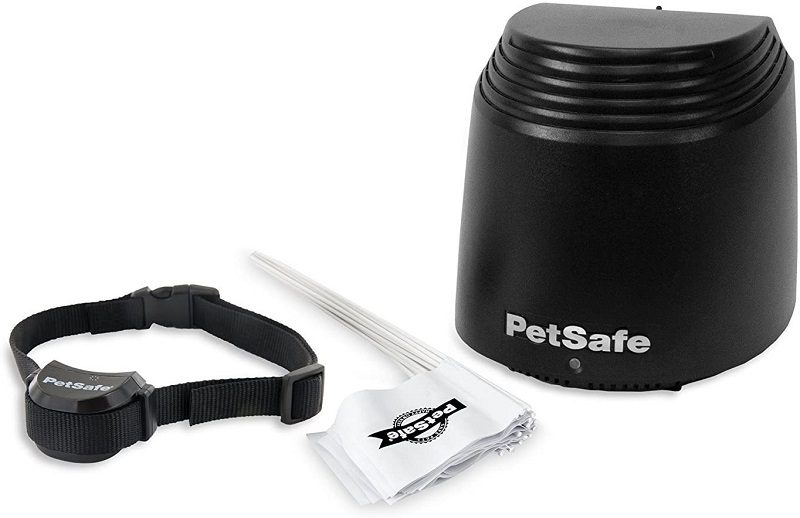 It's not at all surprising to see another PetSafe product on this list. The PetSafe Stay and Play covers more area and works on smaller pets than the Containment System above. The Stay and Play wireless fence is known for being easy to adjust and to have a very strong transmitter. If you have a slightly larger property and a smaller dog, you might want to consider the Stay and Play system.
The collar is the standard two-prong, and the power button is placed on the inside (so your dog can't accidentally turn it off bu scratching or bumping against something). Easily adjustable so if your pup has anywhere from a 6-21″ neck, they'll be well fit into the collar.
This was a really close second, it has a lot of position aspects. With a few shaky reviews on Amazon we bumped it to the second slot, but many, many users reported it working very well. Overall, a really good pick.
Pros
Easy to Adjust
Large Coverage Area
Works with Smaller Dogs
Waterproof
Cons
Poor Battery Power
Bulky Collar for Smaller Dogs
---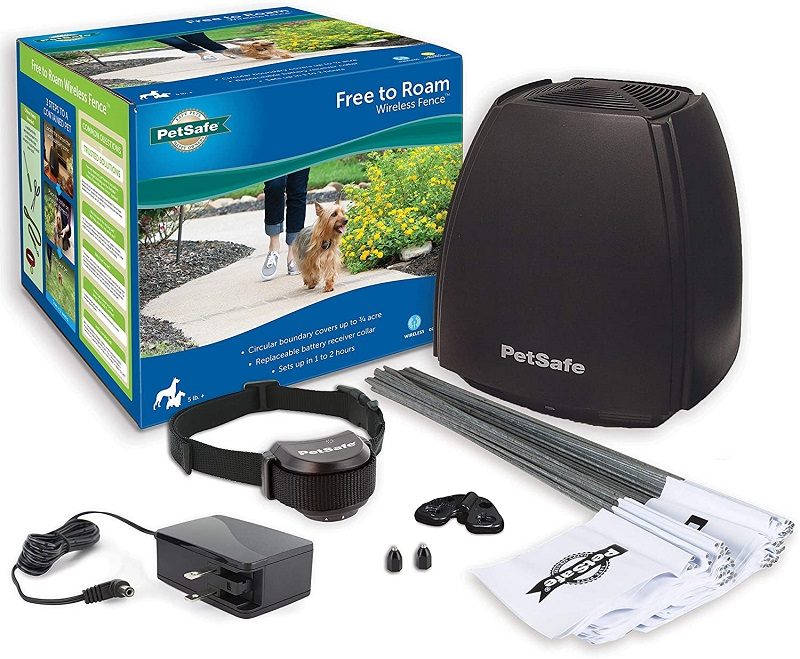 One of the best things about this wireless fence system is that it has a sound-only training mode, for the more nervous pets. In addition, the portable transmitter is perfect for camping trips or vacation homes.
Pros
Long Lasting Battery
Half an Acre Coverage
Waterproof, Adjustable Collar
Works for Cats and Dogs
Cons
Field Adjuster Tricky
Transmitter Signal Varies
---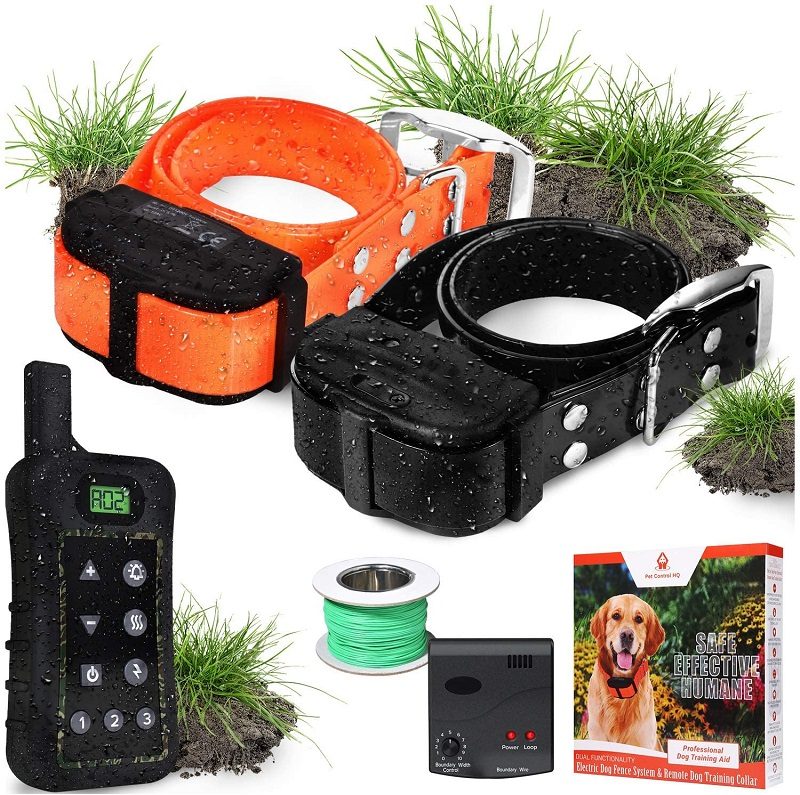 You get the best of both worlds with the Pet Control HQ Wireless Combo system. If you aren't sure if a wireless or underground system is best for you, the Pet Control HQ is a great place to start. This combo fence system comes with a variety of training levels, from beeping and vibrating to ten different static correction levels.
They've also got great customer service if you have questions or need help with your system.
Pros
Both Wired and Wireless
Fantastic Coverage
Works for Multiple Dogs
Money Back Guarantee
Varied Beep, Vibration, and Static Modes
Cons
Only for Larger Dogs
Poor Battery Life
Wireless System Covers Less Area than Wired
---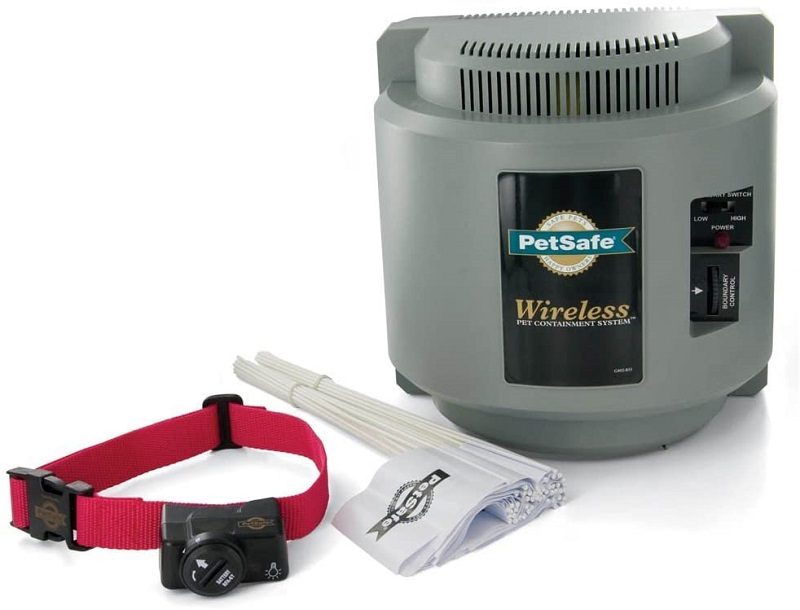 A powerful wireless fence containment system that was designed specifically for two dogs, PetSafe 2-Dog Fence is a great option for people with multiple pets.
The PetSafe 2-Dog Fence Containment System has been around for a while, so it has been tweaked and adjusted to perfection. Covering a large area and producing a steady signal, the system comes with two comfortable, adjustable collars.
Pros
Easy to Install
Comes with Two Collars
Covers Large Area
Fits Larger Dogs
Great Battery Life
Cons
Expensive
Bulky Collar for Smaller Dogs
---
The Top 5 Underground Fences
Now we'll focus on the best underground wire fences. Here are the top 5 choices: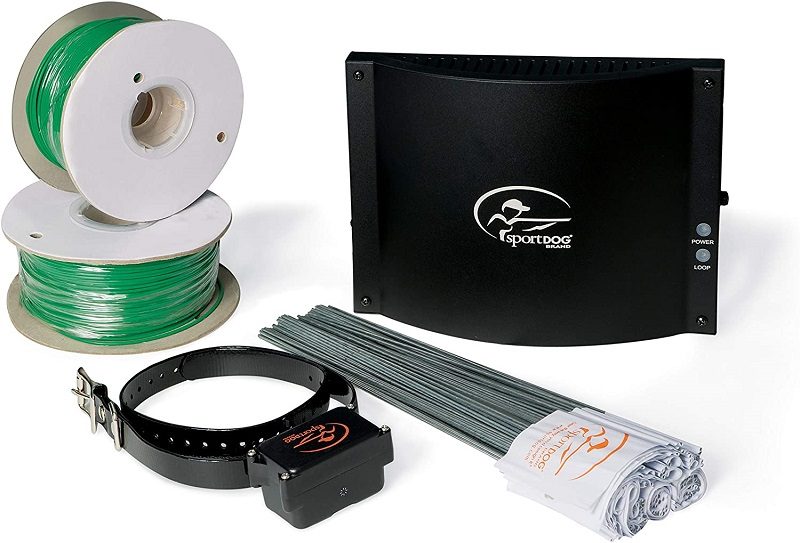 Our number one pick for underground systems, SportDog's Invisible Fence System is one of the most comprehensive invisible fences available.
The containment system comes with all the parts you need to create a custom shaped, underground fence on your property. While this works best with medium-sized dogs, you can't go wrong with this fencing system for almost all sized dogs.
The most impressive thing about this system is its ability to work at large distances — users report it working seamlessly even on a five acre plot. The top-level charge (setting 5) delivers a firm shock, meaning your dog will respect this collar (even if the power goes out or the battery dies).
Pros
Covers Huge Area
Can be Expanded
Waterproof Collar
Long Battery Life
Wire Breakage Alarm
Beeps and Buzzes before Static Correction
Cons
Slightly More Expensive
Collar Works Best on Larger Dogs
---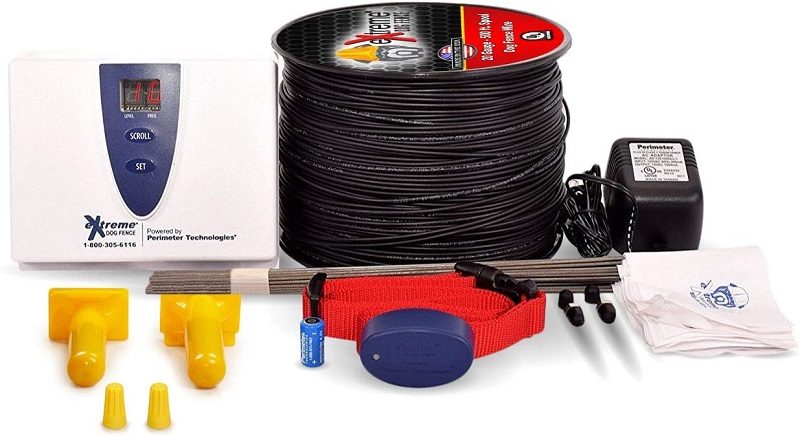 Extreme Dog Fence – Second Generation
Best Large-Area Underground
This is a tie with our best Underground option above. Consider this system instead if you have a large amount of space or your dog is a water-lover.
A very close second to the best for all Underground systems, Extreme Dog Fence has a host of benefits. The high-quality underground fence system can cover up to a whopping six acres.
The fence system includes heavy duty wiring, an updated collar design, and a digital transmitter. If your pup is a water lover, you'll want to consider this system since it's the only option with a collar that can be submerged up to ten feet.
What we really love here is the distance that's safely covered, and the general robustness and toughness of the system overall. If your pup is rowdy and highly energetic, this is a great pick.
Pros
Submergible Collar
Can Cover Up to Five Dogs
Heavy Duty
Cons
Time Consuming to Install
Pricey
---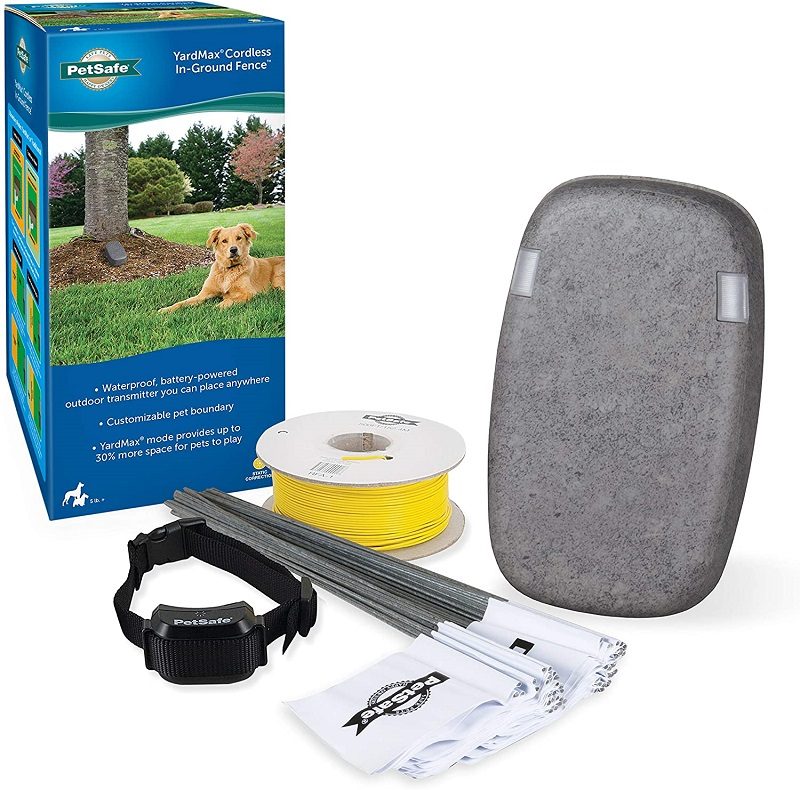 The PetSafe YardMax is all about versatility. The underground fence can be used for small or large yards, one or a dozen dogs, and offers a variety of different training alerts.
We love the variations offered by YardMax, including the fact that it can fit even the smallest of dogs. And we're obviously fans of PetSafe and appreciate how well their products work together.
Pros
Doesn't Require Special Batteries
Coverage Area can be Expanded with Additional Wire
Fits Smaller Dogs
Static and Tone Corrections
---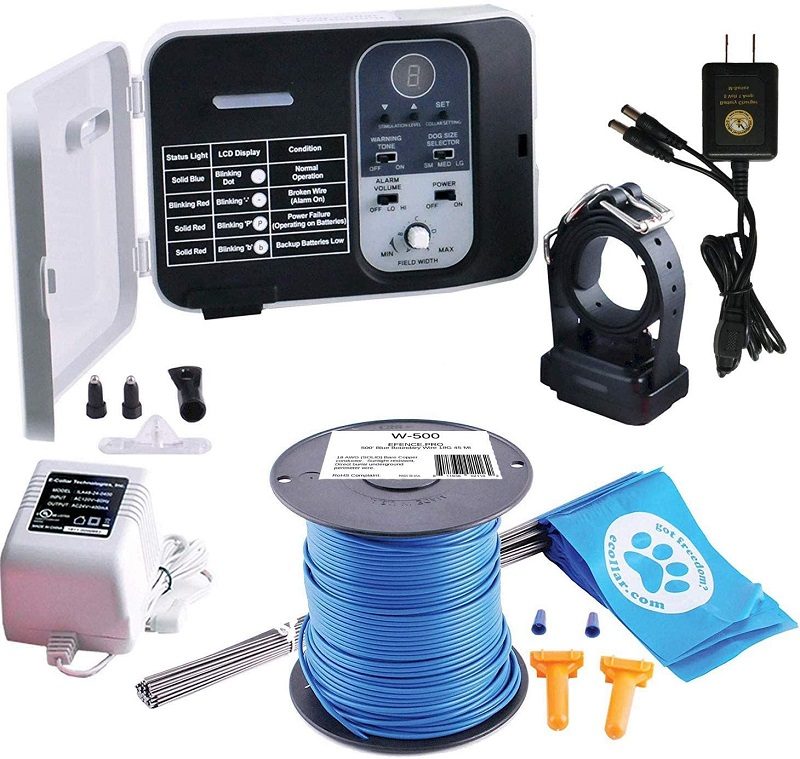 As the name suggests, the Educator E-Fence is all about training dogs to stay within their set boundaries. Because education is at the forefront of this fence design, the collar comes with tone-only modes for the more nervous dogs in your life.
The Educator E-Fence is extremely user-friendly, with a cleanly designed transmitter and bright boundary flags that will catch the attention of even the most stubborn dogs. If you have multiple dogs, you can set the Educator E-Fence collars to personalized levels for each dog.
Pros
Focused on Training
Run-Through Prevention
Covers a Large Area
Easy Installation
Cons
Make Sure You Buy the Complete Kit, not Just a Collar or Collar and Transmitter
---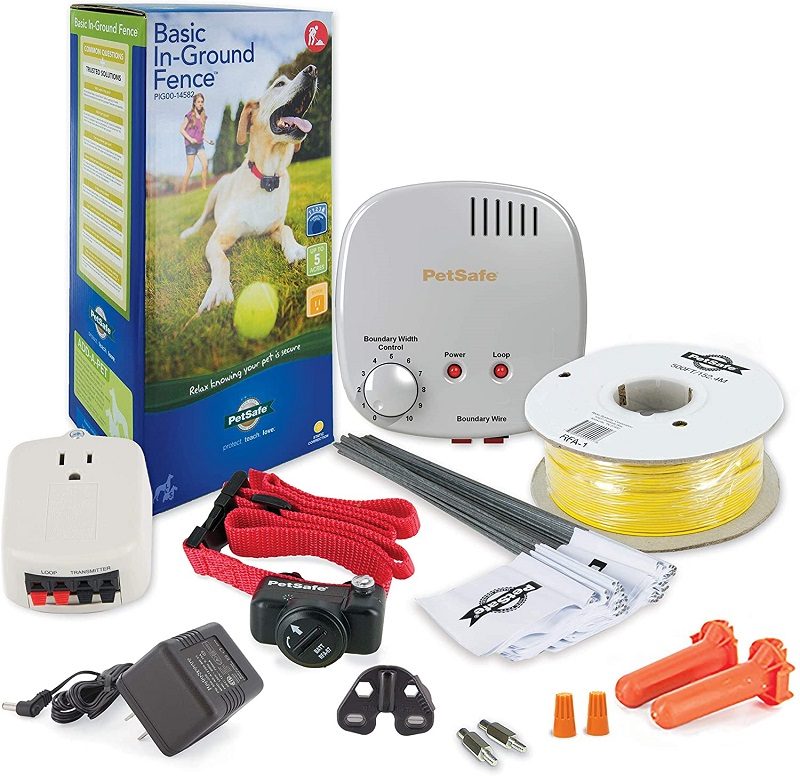 We know dog people aren't supposed to like cats and vice versa, but there are those of us who love all the pets! PetSafe has created this basic in-ground fence for those of us who have cats and dogs.
This barebones kit has adjustable collars that fit both cats and dogs. The collars come with four different levels of static correction, so you can keep your fur babies physically and emotionally safe.
Pros
Inexpensive
Great Starter Kit
Works for Cats and Dogs
Lightweight Collar
Cons
Doesn't Offer Buzz Correction, Just Tone and Static Correction
Long Installation Time
---
Fences We Don't Recommend
We don't want to throw anyone under the bus, but when it comes to the safety of our pets, we don't play games.
While we would like to keep the majority of the focus on products we love and think would be a good fit for our readers, there are a few we'd like to issue some warnings about. Here are two invisible dog fences we can't recommend to our readers:
Avoid: AngelaKerry Wireless Dog Fence System with GPS
We'll admit, the concept of AngelaKerry's GPS wireless dog fence is fantastic. According to the product description, with this GPS collar, you should be able to set the boundaries for your pet and they should automatically receive a shock when they go outside that zone. And all this should be done without needing a transmitter, remote control, or underground wires. The problem with the AngelaKerry Wireless Dog Fence System is that it is highly inaccurate. Even without reading the customer reviews, you get the sense that something is wrong. The AngelaKerry fence is said to be accurate within five meters. Five meters is 16 feet! That's not at all accurate.
Avoid: NeoPaw Wireless Dog Fence Containment System
If there's one thing dog owners worry about when considering a wireless dog fence, it's if the shock will hurt their dogs. And with good reason! Static shock collars should be designed to do just that: Shock! Not hurt. The reason we can't recommend NeoPaw Wireless Dog Fence Containment System is because there have been complaints that the collar starts shocking pets without reason and then keeps shocking them. For us, this is absolutely unacceptable.
---
How we picked — About our selection process
The health and well-being of all pets is paramount to us. As we researched, we looked at specific standards in a variety of categories, all with the comfort and security of our pets in mind. We feel these selected criteria help us give you the best answer for which fences to choose for your dogs, and regardless of whether you use our specific recommendations, we believe they're what you should research when purchasing a wireless electric fence. Here is our top pick:
Review & Ratings – At the forefront of our research are the reviews and ratings for each wireless dog fence. To determine the list we've put together is of the highest quality, we read exhaustively through customer and trusted reviews for each product. We believe customers who have used these products on their precious furry friends have an insight into the quality of the systems. They, like you, want the best for their pets and will judge the systems accordingly.
In addition to reviews, we go over the safety history of the companies creating the dog fences. We want to make sure these companies not only take pet safety serious, but that their history speaks to that fact.
Cost – Even though we'd gladly give all the money in the world to keep our pets safe, most of us are on a budget when it comes to wireless dog fences. Whether you want a wireless dog fence system or an underground system, how much you'll be paying is always going to be one of your biggest questions. Therefore, one of our primary considerations when it comes to rating wireless dog fences is their cost and if that cost equals better quality. Just because it's expensive, doesn't mean it's the best wireless dog fence available!
Coverage Area – When considering coverage area, we examined how large an area each fence could protect. We also researched the quality of the coverage range, to make sure the transmitter strength matched the listed coverage size, to decrease false signals or loss of signal completely.
We looked at the adjustability of the coverage ranges, specifically with wireless dog fences. For the consideration of those with larger properties, we checked to see if the systems we researched allowed for multiple transmitters to increase coverage size without losing signal quality.
Collar Specifications – Even though every aspect of a wireless dog fence needs to be of the highest quality, the collar is of especial importance. This is, after all, the device that will be in direct contact with your pet.
When examining the collars, we look at the compatibility of the collar with the weight and neck size of the dog. Because the thickness of dog hair can affect how well the collar looks, we also take note of the different types of dog hairs. Similarly, every dog will react to collar correction differently, another criteria we consider is if there are options for different corrections. The best collars are those that offer warning tones or buzzes, as well as different levels of static correction intensity.
As pet owners, it's important to know if you can set these intensity levels manually or if they increase in automatic increments. Other considerations we make are if the collar is waterproof or not, the battery life of the collar, and if the system can work with multiple collars on multiple dogs.
---
How Does a Wireless Pet Fence Work?
Sometimes referred to as an invisible fence, a wireless pet fence is an electric boundary that keeps your dog within a certain space.
There are two different types of invisible pet fences, a wireless fence and an underground fence. Both offer a boundary for your pet without you needing a visible fence or gate to keep your dog contained.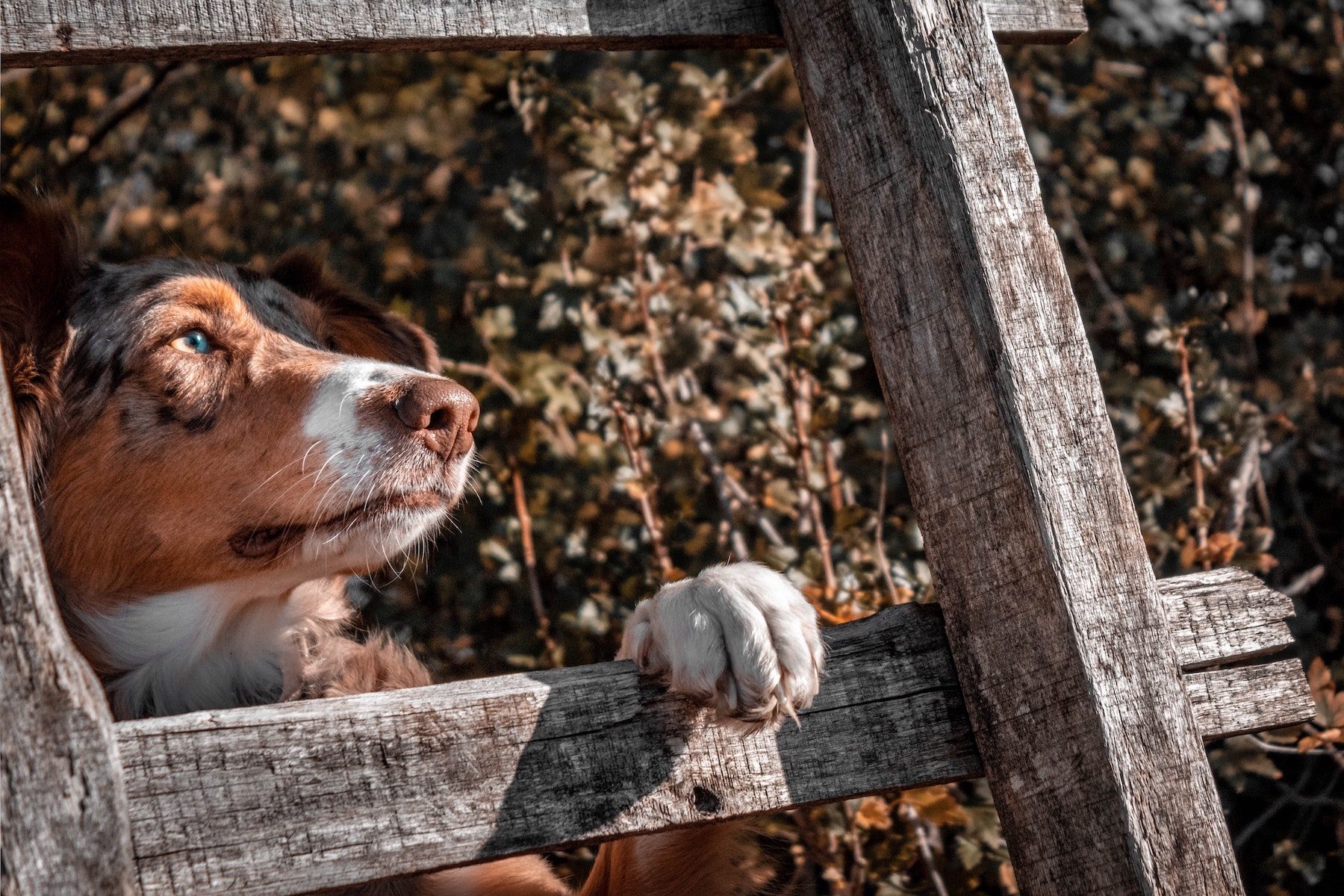 While the specifics of wireless and underground dog fences differ, they both have several similarities in how they work.
Both types of invisible pet fences will come with a collar for your pet. These dog collars will beep if your pet gets too close to the boundary. Then, if your sneaky doggo keeps approaching the boundary, a little static shock will be emitted from the collar. These basic concepts are the foundation for invisible dog fences
The goal is to train a dog to stay within a certain boundary, allowing you to be worry free when your fur baby is outside.
---
Will a Wireless Fence Work for my Dog?
In general, and when training is done correctly, wireless fences work extremely well with most dogs. However, there will always be those outliers that will just not be able to adjust to using an invisible barrier.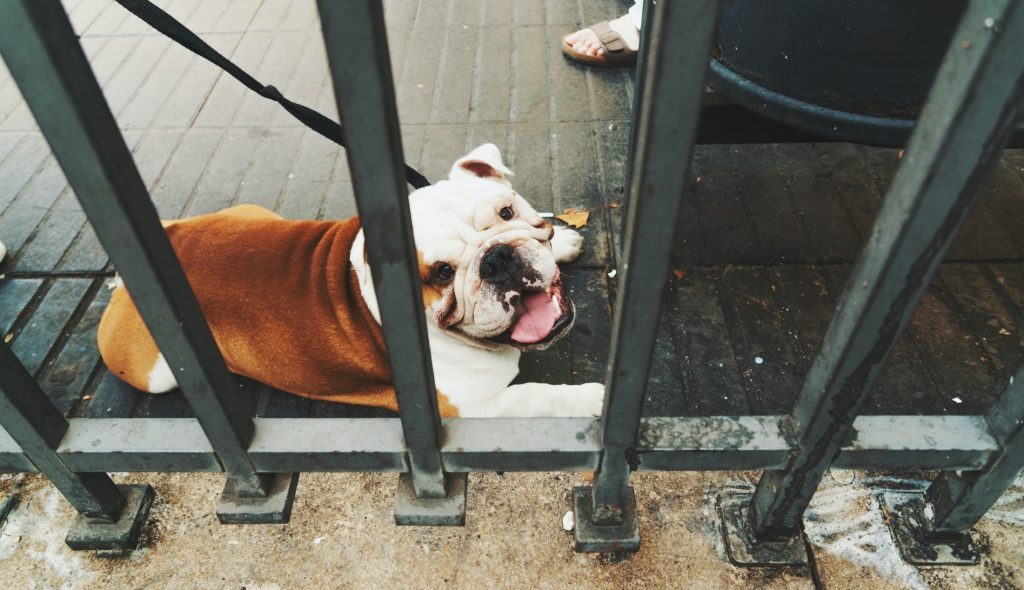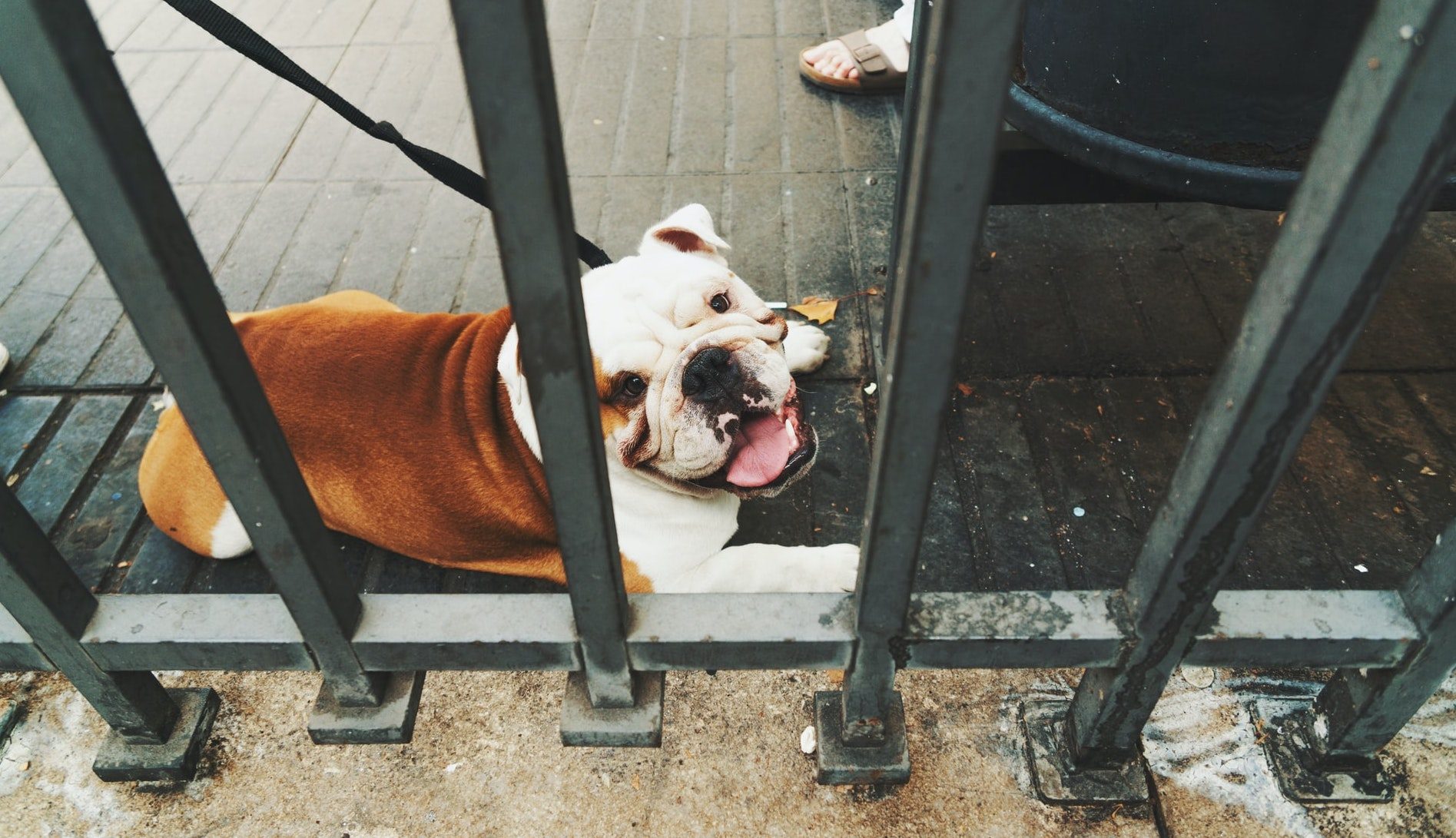 There are two aspects you should consider when deciding whether a wireless fence will work for your dog or not: the size of your dog, and the personality of your dog.
Size of Your Dog
Your dog is special. That's a fact.
Every dog has a personality and quirks of their own, which is why deciding on whether a wireless fence works will depend on the size and personality of your unique pet.
First, most wireless fences will work for any size dog. The collars are also very versatile, so if you have a smaller or larger dog than average, you can find an option for that weight category. Most collars fit dogs as small as 5 pounds!
The versatility of these dog collars will keep your dog safe and comfortable. During the first few weeks of training your dog on the collar, you should closely monitor the fur and skin in contact with the collar. You want the collar to be snug enough that the static correction works, but not so tight that it chafes your pet's neck.
Personality of Your Dog
Just as important as making sure your dog is in a collar that fits is making sure this form of training will work for your dog. There are two ends of the spectrum for this: timid dogs and stubborn dogs.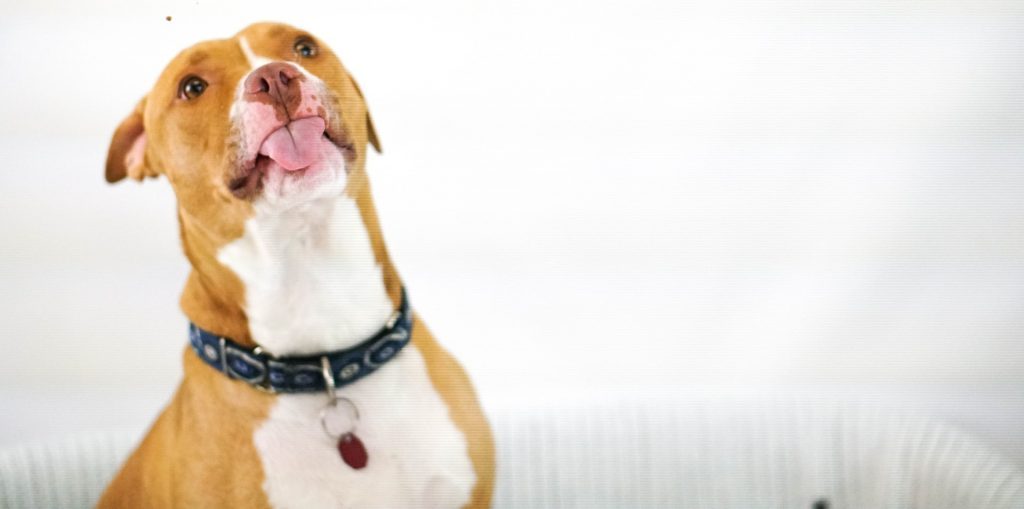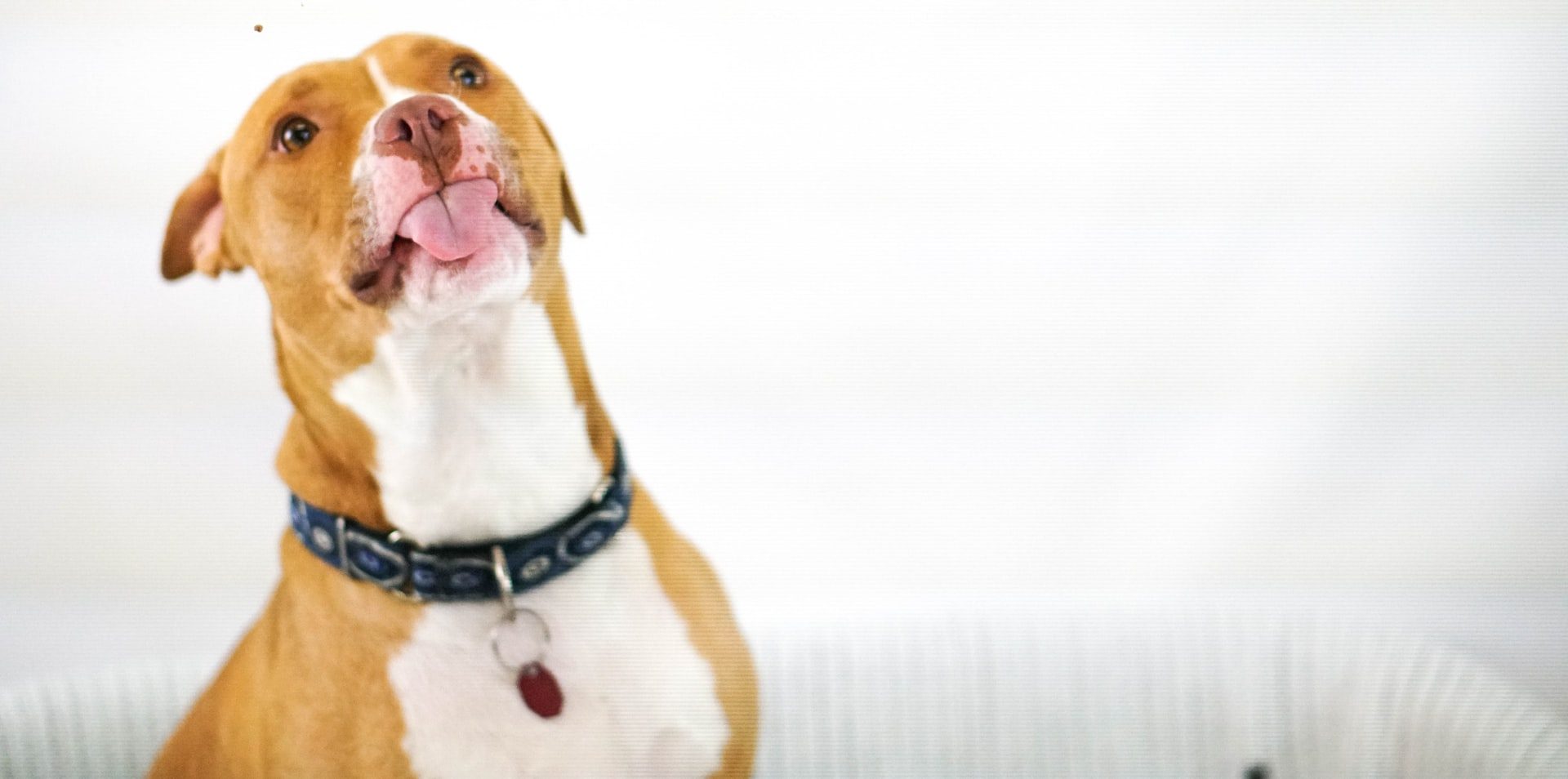 Timid dogs might not respond well to the small shock that a wireless fence collar emits. Not only can it be scary for more nervous dogs, but if the training isn't done right beforehand, they might not understand why they're being punished.
Thankfully, most invisible dog fences offer collars that buzz or beep, as well as offer the small static correction. If a beep is all your dog needs to stay within their boundary, perfect! No need for the little shock.
Stubborn dogs will have just the opposite problem. If training isn't done well and thoroughly with a stubborn dog, they're more likely to flaunt the rules and become accustomed to running past the markers despite the shocks.
---
What you can do to make sure your pet is safe using a wireless pet fence
The biggest question pet owners have when considering a wireless dog fence is if the collars are safe.
Always consult your vet, but in our experience as long as your dog has the right temperament and is healthy (not too young or too old) the "shock" of a shock collar will not do them any lasting damage. In fact, if you're still worried once you've purchased a wireless fence, you can try the shock collar on yourself just to be certain.
Because a shock collar can cause a little friction around your dogs' neck, as most collars do, it's important to keep your pets necks clean. Also, keep an eye out for your dog rubbing on the collar or trying to get it off, as that can cause irritation in very rare instances.
The key to using a wireless fence safely is, of course, to make sure you follow all the instructions on the system you purchase. Different systems will have different setups, so read through those instructions carefully before training your dog.
Overall, when installed correctly and with proper training, wireless pet fences are an easy way to ensure the safety of your pet. Learn more about the pros and cons of a wireless fence here. In general, having a barrier will keep dogs from running away or getting hurt out in the street.
---
All about the two types of invisible dog fences – and which you should get!
The two types of invisible dog barriers that you can compare and determine which best meet your needs: Wireless and Underground fences.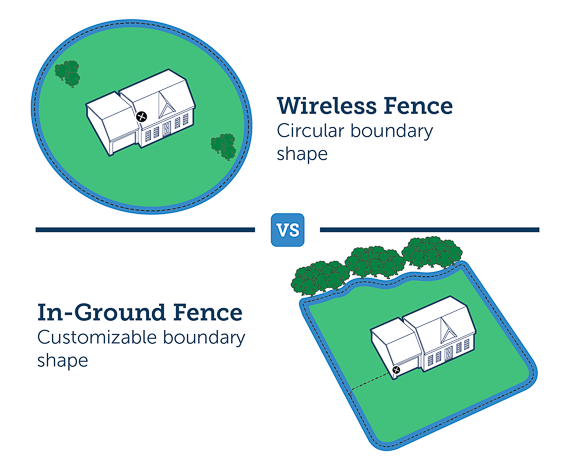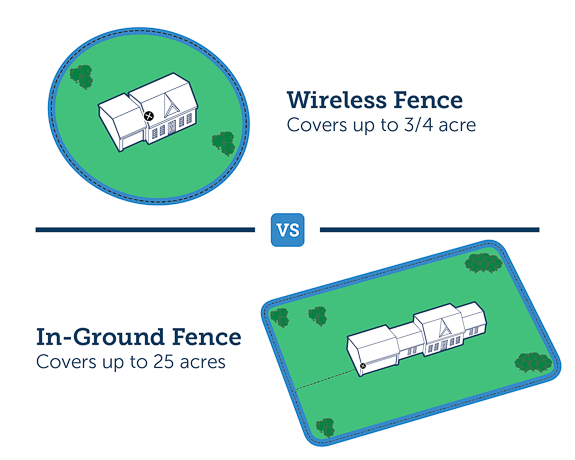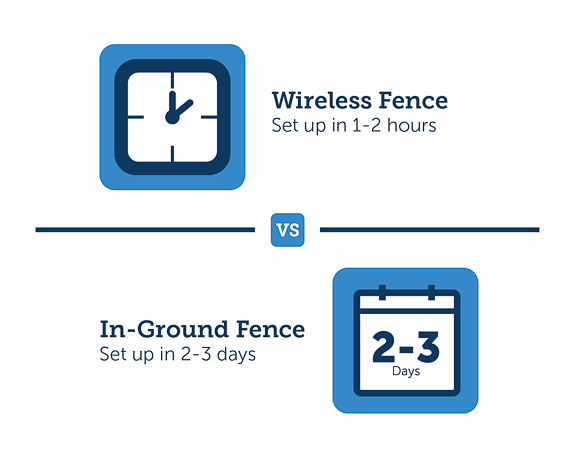 While both are effective and safe ways to keep your pet secure, one might fit best with your needs and situation. In order to get the best protection for your furry friend, it's important for you to have a basic understanding of both options, as well as their pros and cons.
Wireless with Basecamp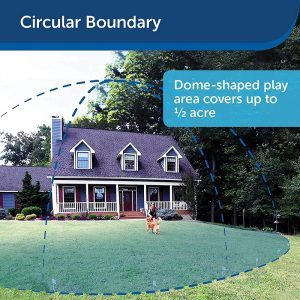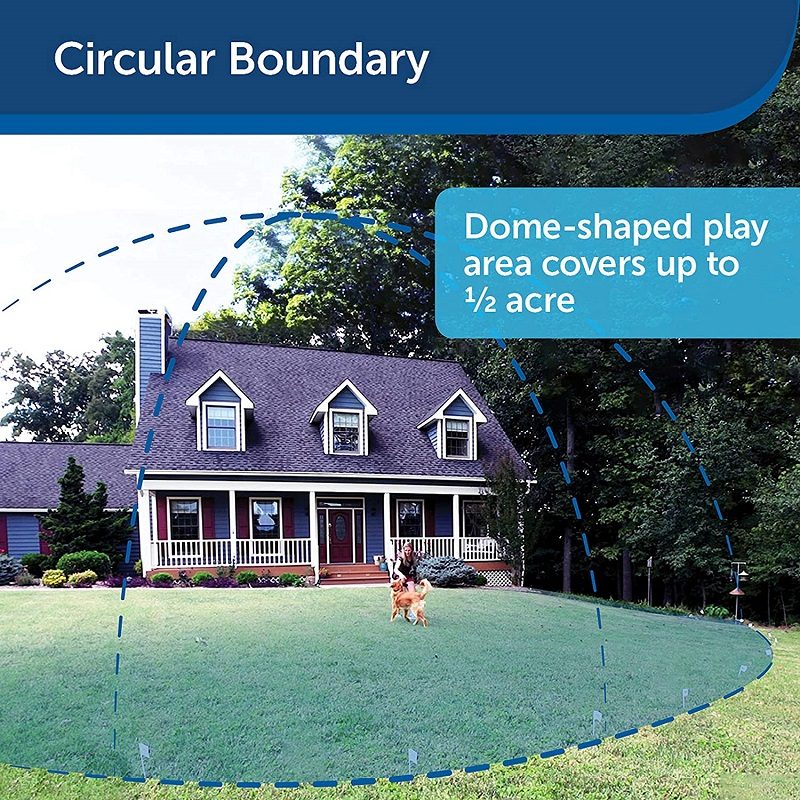 A wireless with basecamp invisible dog fence uses a transmitter to cover a specified amount of space. The basecamp, or transmitter, is connected wirelessly to a collar and produce a shock whenever the collar crosses over the specified boundary.
The best wireless dog fences with basecamps are extremely easy to use, as they're pretty much plug and go. However, there can be transmitter interference and sometimes the signal will fail. This type of fence typically works best in flat areas that aren't too large, are flat, and have few obstructions.
Pros of Wireless Fences with Basecamps
Inexpensive
Easy Installation
Moveable (can pick up and go when people move)
No Maintenance
Cons of Wireless Fences with Basecamps
Covers Smaller Areas
Typically Only Allow Circular Containment Areas
Not Always Accurate (Accuracy 'wobbles' by a few feet)
Heavier Collars
Signal Can be Disrupted
Underground Wire Fence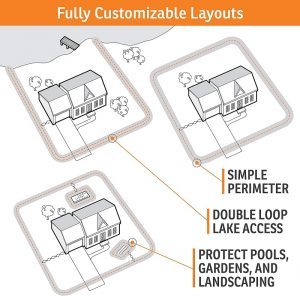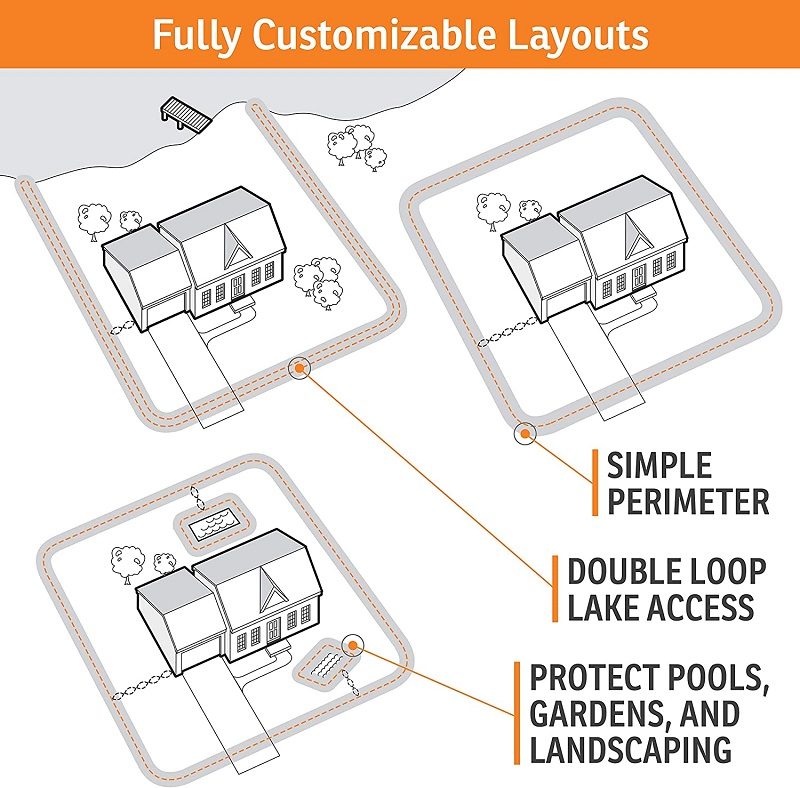 An underground wire dog fence works similarly to a wireless fence, but instead of using a signal, these fences require the wire for the fence to be installed in the ground around a specific border.
Unlike wireless fences, underground fences can be made to the specific shape needed for a particular area. In fact, underground fences can even be used to keep pets out of certain areas, like a shed or a pond, instead of just keeping them contained in an area.
However, because underground fences need to be installed, they do take a little more effort. The effort required to install underground fences is balanced by the accuracy and versatility of the boundaries.
Pros of Underground Wire Fences
Can Create Larger Containment Areas
Customizable Border/Boundary
No Signal Interference
Lighter Collar
Cons of Underground Wire Fences
More Expensive than Wireless Fences
Installation Requires Digging Up Yard/More Involved Installation
May Require Cable Maintenance
Why trust us
We're a pet care company operating in multiple cities and walking hundreds of dogs every day. We know what people are using at home (and we know what we like to use) to make sure all our pets are happy, safe, and comfy. We've got years of experience and thousands of dog walks and cat visits informing our every article.
Want more information?
Just ask us! Your PetsMaster is here to help. As an Amazon Associate, we earn from qualifying purchases.