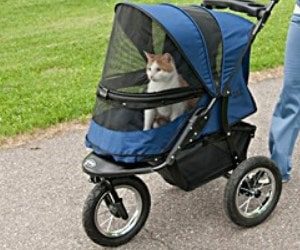 If you have ever attempted placing a harness and leash on a cat, you understand that in most situations, they really dislike it.
When we say dislike, we know that really means claws all over your arm, hissing, and attempting to scar you for life. Maybe your kitty has mobility issues, but they still love getting fresh air and seeing the sights around town.
Regardless of the reason, the use of a cat stroller is a terrific way to take your feline friend, your capricious canine, or any of your small animal friends out for a lovely stroll.
There are currently hundreds of pet stroller products to sort through and choose from. We've tested and researched a multitude of models and brands to save you time and money. Here is a handy list of our favorite models with reviews and a helpful buyer's guide that will streamline the process, so you can easily find the best option for you and your furry friend.
Selecting the Best Cat Stroller in February, 2019