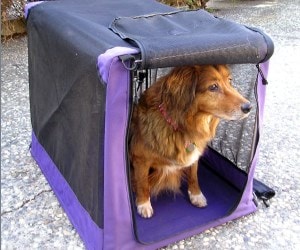 Gone are the days of animals only being welcome at home. Many hotels now allow pets to accompany their families on vacations or business trips.
However, traveling with your fur baby presents a unique set of challenges. From keeping them safe in the car on a road trip or ensuring they have a safe space to relax at night, purchasing a portable, soft-sided travel crate quickly solves many of these conundrums.
If you love to travel, and you also love your pets, a soft crate can simplify the issues related to traveling with them. There is a wide array of options available from simple versions that open with a flick of the wrist similar to a child's play tent to sophisticated luxury models that include safety harnesses and fancy bedding.
We've examined the top brands available and created a top ten list including our favorite choices. We've also included a helpful buyer's guide to help you decide which features are most important for you and your furry family member.
Selecting the Best Dog Travel Crates in June, 2019
[Read more…] about Best Dog Travel Crates 2019 – Buyer's Guide